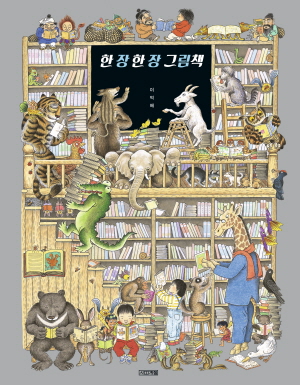 A Page by Page Picture Book
• Original title : 한 장 한 장 그림책
• Price : 23,000KRW
• Product Dimensions : 293x378, 32pages
• Publication Date : 2022-10-05
• ISBN : 9791160949698
Book Information & Summary
written and illustrated by Lee Uk-bae

This is a big poster picture book written by Lee, Uk-bae, who has expressed the Korean traditional style colored painting in a vivid way since 1995. He used to want to introduce roughly 200 characters in the past but couldn't, because there was no proper stage. However, in this picture book, he finally makes all the characters appeared by presenting children who cheerfully play each other. The child in this book stays at one painting and appreciate the work of art.
By doing so, the writer expresses his wish for readers to discover exploding stories and to fully enjoy them. In the 14 scenes page by page, there are sub-titles written by using onomatopoeia, which describes sounds and shapes. And the writings besides each illustration pick up a certain episode in a witty way just like a puzzle. By doing so, the writings make readers solve the puzzles on their own. There are so many stories in each paining, and more stories are created by active participation by readers. This is the one which makes readers feel the pleasant energy and vitality of the painter.
Editor's Note